Welcome to our news page! Here you'll find all our Ruby Violet updates, opening & closing hours, stockists and more! 
 CURRENT OPENING HOURS: 
 Our hours may change due to the weather. If it's raining or really cloudy it's likely we will close at 5pm due to minimal footfall. If we do close early there will be a note on our Instagram stories.
 KING'S CROSS
 Sunday-Thursday: 11am-7pm
Friday & Saturday: 11am-8pm
ARDBEG
 We partnered with The Persuaders and Scottish Whisky Distillery Ardbeg to create 3 spine-chilling, terrifying and imaginative ice cream creations using many different ingredients such as Lapsang Souchong tea, mealworms, Mesquite, plus many cases of Whisky. We worked closely with the persuaders to create serves which complimented Ardbeg's 3 monsters of smoke - Wee Beastie, An Oa and 10 Year Old.  Ardbeg toured London, Glasgow and Edinburgh with their pop up ice cream van, inviting ice cream and whisky lovers as well as press.
Lapsang & Whisky Toffee Ice Cream on a Stick
Wee Beastie Ice Cream Sandwich with Mealworms
CAWSTON PRESS  
 We collaborated with Cawston Press to create two nostalgic Summer ice cream & sorbet floats highlighting their rhubarb & apple press. We developed a raspberry ripple ice cream float with handmade jam as well as a refreshing strawberry sorbet blended shake.
Both Cawston Press floats at our King's Cross Parlour
Raspberry Ripple Float
WE ARE OPEN 
 Hurrah! Our new kitchen in Marston Moretaine is open! We've been busy testing all our new equipment to make sure consistency and quality remains the same. We will be inviting neighbours in Marston Moretaine to sample a free scoop on the 30th of August between 12pm and 5pm.
Strawberries
Sandwiches
NEW KITCHEN
 We have successfully raised £358,212 from over 300 investors and work on our new production unit in Marston Moretaine is now well underway. 
Progress has been steady, not helped by stainless steel and timber shortages and a very busy construction industry, but it remains on schedule. 

We're really hoping to be moving in at the end of June with new machinery installed and working. It's going to be amazing having that space and all the possibilities that come with it.

SEEDRS 
We finished our Seedrs round with 178% of our goal raised. Our new kitchen is being constructed in Bedford and our ice cream dreams are finally turning into a reality.
Our parlours re-opened in April too, we're now serving scoops 7 days a week in King's Cross and 3 days a week in Tufnell Park.
VEGAN CAKE
We launched our first vegan layer cake for shipping across the UK! 
Layers of Raspberry and Coconut with a pink dragonfruit ganache.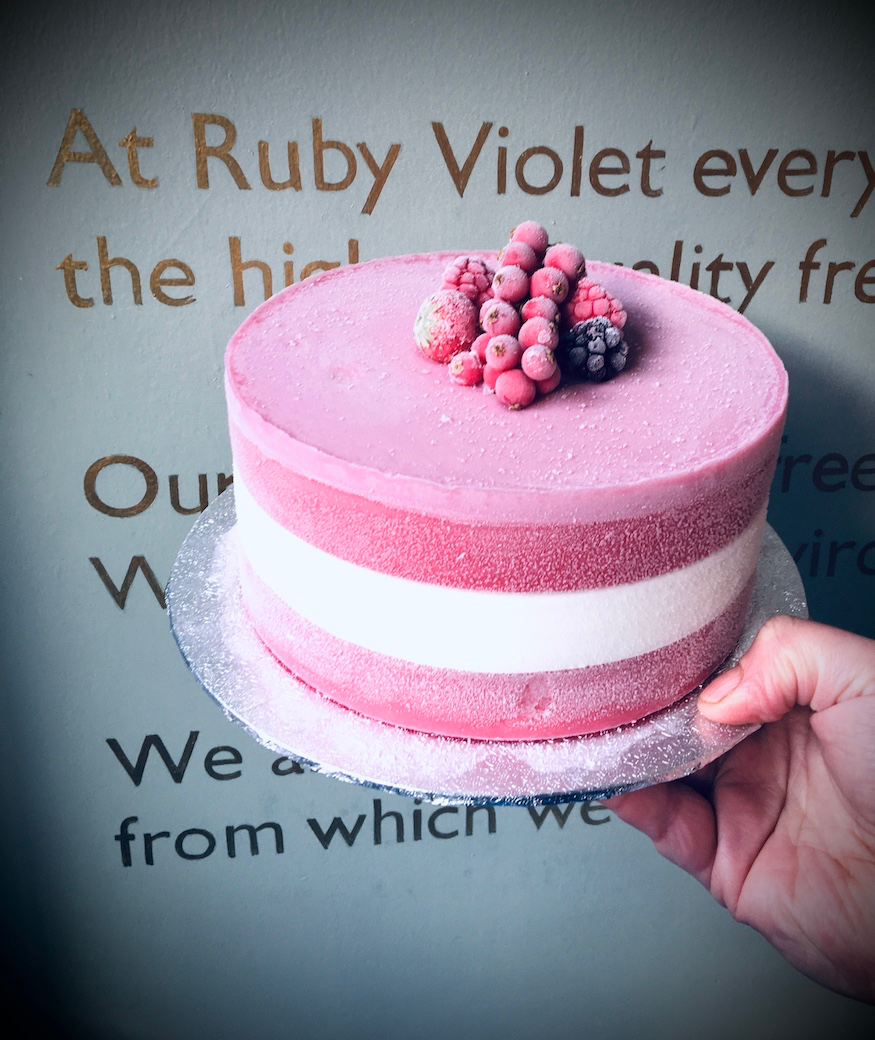 @LONDONISPINK COLLAB 
To celebrate Mother's Day we collaborated with the fabulous Jules from London is Pink to create a bespoke pink ice cream cake for an Instagram giveaway! 
Our UK Shipping has been increasingly popular, see our UK Delivery map to track where we've been delivering to!
UK SHIPPING
UK Shipping is now live! You can purchase medium tubs or ice cream cakes to be delivered across mainland UK, hurrah!
*Check our FAQ page for the nitty gritty details
SEEDRS INVESTMENT
10 years ago I started Ruby Violet with a passion for ice cream and the potential to innovate and design. We've had plenty of highs (and a few lows), but now we're ready to expand to meet our growing market - Julie Fisher 2021
CHRISTMAS & NEW YEAR 2020
The end of the year is always a busy time for us at Ruby Violet. We launched our festive cakes and cones to order in November with a completely new list of flavours! 
We added a vegan bombe to our festive cakes which proved to be a wild success! We also gave our Maria Bella cakes a 2020 twist with Coconut, Passionfruit & Hazelnut options. Our snowman cone also made two new friends!
HALLOWEEN 2020 
 Happy Halloween! We launched 3 new flavours in the middle of October as well as spooky bug choc tops! Our Halloween flavours this year were: Spiced Pumpkin, Ube and Charcoal Coconut Sorbet. 
 TUFNELL PARK UPDATE 
 We reopened our Tufnell Park parlour for scoops and takeaway hot drinks with a small children's seating area. 
Ruby Chocolate Choc Top with Bugs
Spiced Pumpkin ice cream
COCO & EVE 2020 
 We have been collaborating with Coco & Eve, an award-winning beauty company. We made 100 tubs of vegan sorbet inspired by their new scalp scrub! The tubs were sent out to 50 influencers all across London and included ingredients used in the scrub. Our mint and cucumber sorbet was influenced by the cooling peppermint essential oil and coconut and chocolate chip was made to highlight the coconut shell powder and coconut oil. 
Vegan Coconut & Chocolate Chip
Vegan Mint & Cucumber Sorbet
CRAZY SEXY FOOD! 
 This month we were featured in the crazy sexy food ice cream walk. We welcomed Hannah and Kish into our Tufnell Park parlour to try out some of our most exotic flavours. Watch their video now on YouTube to see an exclusive interview with our founder Julie Fisher.. 
KOKOA 
 We are now stocking our tiny tubs in Kokoa, Highgate Village. Visit their new shop for the ultimate high-quality chocolate experience at the heart of Highgate Village. 
 67 Highgate High Street, London, United Kingdom
PEANUT BUTTER & STRAWBERRY RIPPLE RECIPE!
The most indulgent and refreshing flavour combination. The peanut butter is creamy and rich and the strawberry ripple punches through with a sharp sweet flavour.  
 Ingredients for the ice cream:
500ml (17fl oz) double cream
250ml (9fl oz) whole milk
75g (3oz) granulated (raw sugar)
45ml (1 1/2 fl oz) egg yolk (approximately 3 eggs)
200g (7 oz) crunchy peanut butter
2-3 tablespoons strawberry ripple (
see below) pinch of salt

Ingredients for the strawberry ripple (makes 200ml):
250g (9oz) fresh strawberries hulled
40g (1 1/2 oz) vanilla sugar
2 teaspoons lemon juice
1 vanilla pod split lengthways and seeds scraped out 
- Make the base mix by pouring the cream, milk & sugar into a saucepan. Bring slowly to the boil then remove from the heat and allow to cool a little for about 5 minutes
- In a bowl, whisk together the egg yolks and salt until combined.
- Slowly pour the slightly cooled milk and cream on to the egg mixture, stirring constantly. Do not use boiling milk as this can turn your egg mixture into scrambled eggs.
- Pour the mixture back into the saucepan and slowly heat, stirring with a wooden spoon all the time, until it has reached 85 degrees Celsius or 185 degrees Fahrenheit but doesn't boil.
- Stir at this temperature for 4 minutes or so.
- Remove the hot ice cream mix from the heat and stir in the peanut butter. This needs to be well mixed.
- Remove from the heat and leave to cool down to 4 degrees Celsius or 39 degrees Fahrenheit within 90 minutes.
- You can cool down the mix by placing in a pan in a sink with cold water and ice cubes, or put the mixture in a ziplock bag which you can then place in a pan of cold water with ice cubes. Do not place the uncooled mix in the fridge or freezer.
- Leave in the fridge until ready to churn!
- When you are ready remove the mix from the fridge and thoroughly stir then pour into an ice-cream maker and churn.
- Layer the ice cream into a container, gently rippling through with the strawberry ripple.
- Keep in the freezer until ready to serve.